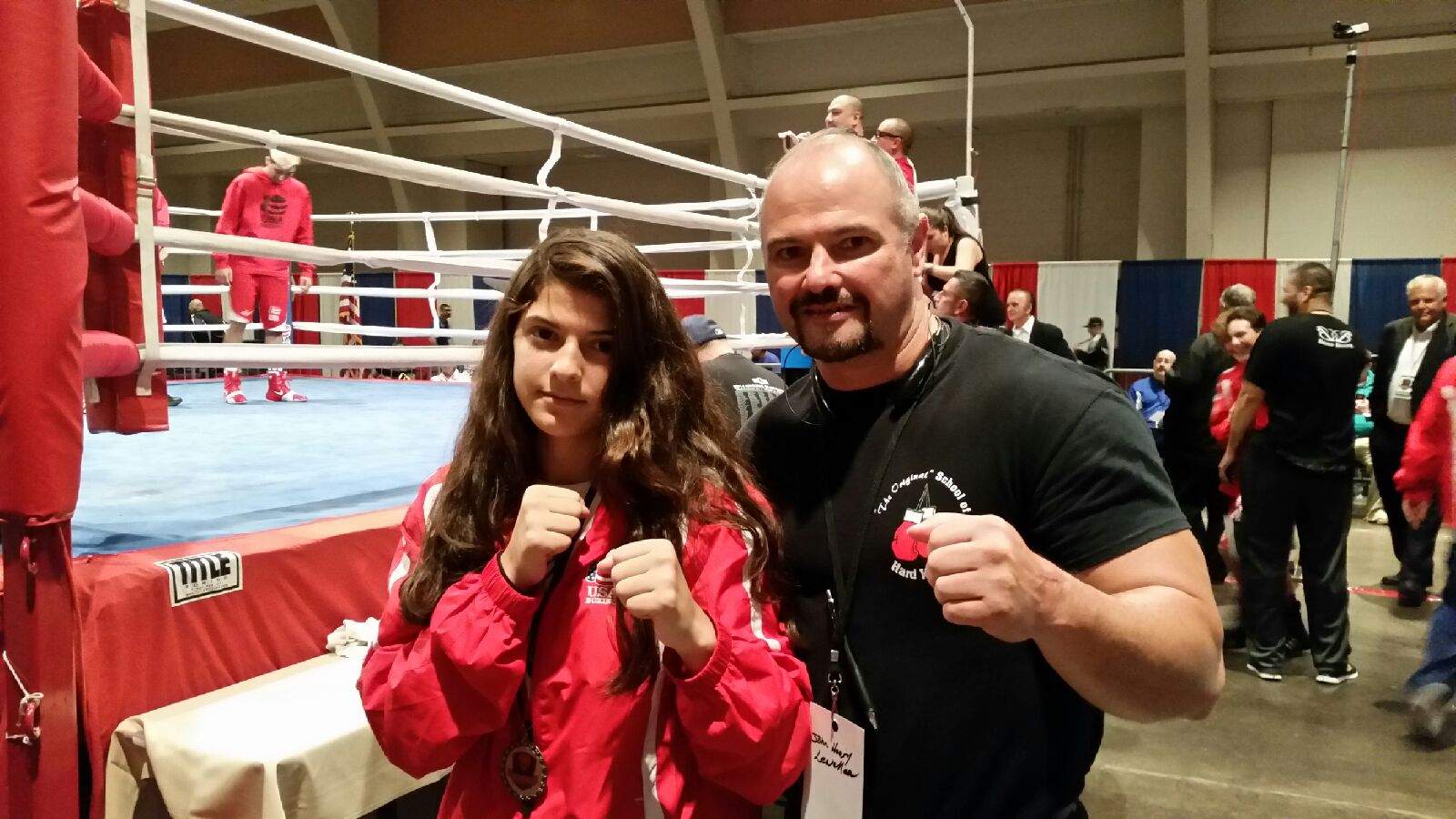 2014 National Junior Olympics Championship
15 yr old Cheyenne Lewellen a rising 10th grader at Summerville High School is a boxer at School of Hard Knox, home of Summerville Boxing Team. Cheyenne recently battled her way through the South Carolina Junior Olympics State Championships and the South East Regional Junior Olympics Championships paving the way for her to compete in the National Junior Olympics Championship in Charleston West Virginia the week of June 10-15 2014. There were over 180 athletes from across the country vying for the top 3 national ranking spots within USA Boxing. Cheyenne came up against Siane Moore, a previously nationally ranked boxer from St. Louis MO. Lewellen showcased all of the hours of training and sparring she'd put in to reach this level of competition. Lewellen dominated Moore all 3 rounds, properly executing her game plan and catching Moore with a vicious hook in the 2nd round. From that point on Moore could not defend herself against Lewellen's barrage of blows. Moore could only hold and push Lewellen throughout the remainder of the bout. Unfortunately for Lewellen, Moore, being already nationally ranked was favored to win. By the end of the 3rd round the crowd was in awe of Lewellen's abilities and composure in the ring under such intense pressure of competing on a National level and the arena knew Lewellen had beat the #2 ranked female in the nation. However, a shock ran through the crowd as Siane Moore was declared the winner by a split decision. Many boxers, coaches and officials tracked Lewellen down to compliment her not only on her talent in the ring but on her sportsmanship and the poise she displayed after such a disappointing loss.
Her 19 & 3 record exemplifies all Lewellen's hard work and dedication. The 3 losses were against the top 3 nationally ranked fighters in 3 different weight classes. Lewellen is now ranked #3 in the nation. She is eligible to participate on the international level and was asked by the South East Region Director, Al Simpson to obtain her passport as soon as possible.
Coach Johnny Lewellen, Cheyenne's dedicated single father who is the Head Coach and President of School of Hard Knox, the President of South Carolina USA Boxing and the coach of the South East Regional Team which includes SC, NC, GA, FLA and FLA Gold Coast, makes the sacrifices necessary to get his boxers to as many tournaments as possible. A huge accomplishment for the Vice President of School of Hard Knox and the Chief of Officials for South Carolina USA Boxing Teresa Mott was 1 of 2 officials out of 40 to be nominated for Outstanding Judge during the course of the entire event. This was her first National Tournament and she was evaluated during each 2 day session by an International AIBA official. Mrs. Mott was recognized for her hard work and dedication not only to her team but to all of the athletes throughout this National event.
Cheyenne is entered in the National Women's Golden Gloves in Ft Lauderdale FL the week of July 7-12 2014. This is a week long event that showcases the talents of female boxers from across the country and it is another stepping stone to taking a spot on the US Olympic Boxing Team. Expenses for these types of tournaments are astronomical for those that participate so if you would like to support Cheyenne's quest to becoming an Olympics shining star, please contact School of Hard Knox, a 501 c 3 Non Profit Organization at hardknox@svilleboxing.com or 843-478-9667.
National Women's Golden Gloves & Silver Tournament July 9-13 2013

As a storm rolled into Ft Lauderdale FL so did 3 of South Carolina's finest female boxers from The School of Hard Knox, home of Summerville Boxing Team to compete in the 2013 National Womens Golden Gloves and Silver Gloves Tournament. Well over 200 female boxers from all across the nation converged on Ft Lauderdale to showcase their talents and athletic abilities.
13 yr old Brianna Slark represented South Carolina in the 12-13 yr old division 85lbs weight class. Ms. Slark has trained for over 3 months,-sparring more than 36 rounds and getting into top performing shape for this tournament. She arrived in FL in peak condition winning by a walk over, bringing home to SC a Gold Medal and a National Title of Silver Gloves Champion in her weight class.
14yr old Cheyenne Rayne Lewellen competed in the 14-15yr old division 125lbs weight class. Ms. Lewellen fought for the Gold Medal against Zoe Glass, a 2012 National Junior Olympics Champion from Michigan. Lewellen dominated all 3 rounds throwing Glass off her game. The judges scored in Lewellen's favor: 28/29; 29/28; 30/27; 28/29; 28/29 however Ms. Glass' hand was raised in victory. Lewellen's Coach John Lewellen (who happens to be her father) was extremely proud of Cheyenne's performance not only during the bout but also afterward as Cheyenne displayed the utmost grace, dignity & good sportsmans-like conduct after her alleged loss in the ring. Cheyenne was awarded the Silver Medal in the 2013 National Silver Gloves tournament.
16 yr old Raven A Lewellen had 2 opponents to face for her shot at a National Title. However, when the coach of those two young ladies witnessed the dominance of Cheyenne Lewellen in the ring he decided to pull his athletes out of the running for the title. Therefore, Raven who weighed in at 94lbs now holds the Gold Medal & title in her weight class for the National Junior Golden Gloves.
Coach John Lewellen stated that these National tournaments are extraordinary opportunities to get nationally ranked among the top boxers in the nation-vying for a spot on the Olympic Boxing Team. On the same hand it is very expensive to get to the larger tournaments because they are usually such a long distance. These girls are challenged daily for participating in a male dominated sport. But yet in 2012 it was the female boxers of the US Olympic team that brought home the medals from London.
There is a dire need of financial support to get these athletes to the larger tournaments throughout the nation. Without sponsors to get to these tournaments these young ladies would never been seen or even heard of. So a special thank you to the following that helped make this week long trip to FL possible for Brianna, Cheyenne & Raven: Mr K's Piggly Wiggly, Billy Stanick of Stanick Roofing, Jay Guerrero, Cindy Rodenberry, Wal-Mart of Summerville, Corey Goodwin of Fight Club University, Kristin Uricchio Attorney at Law, Sammy Millhouse of Shakehouse Boxing, Cedric Mingo of Mingo's Boxing, Patriot Crane, Norton & Richardson Paint & Body of Summerville, Tribal Plumbing of Summerville, Mr. Sign of Summerville and private individuals who wish to remain anonymous.
If you would like to contribute & support the team, please stop by the nearest Bank of America branch & make your donation to Tri County Athletics (account # ending 9934) a legitimate 501 c 3 non-profit organization and the parent company of Summerville Boxing Team. For more information please contact Summerville Boxing Team @ 843-478-9667 (Coach John Lewellen).